---
Perseverance
by Joan Abbott
The dictionary defines perseverance as "steadfastness in doing something despite difficulty or delay in achieving success." We're all being called upon to persevere as we adapt to a whole new set of rules and conditions in a very different world.
It has been a challenging year for Kitty Angels. Because of COVID and social isolation we have not able to do as many adoptions, so we have had to shelter and foster cats longer. We have encountered many more strays showing up at our feral colonies looking for food, and we have taken in more cats this year than we did last year – over 100 kittens to date and as many adults.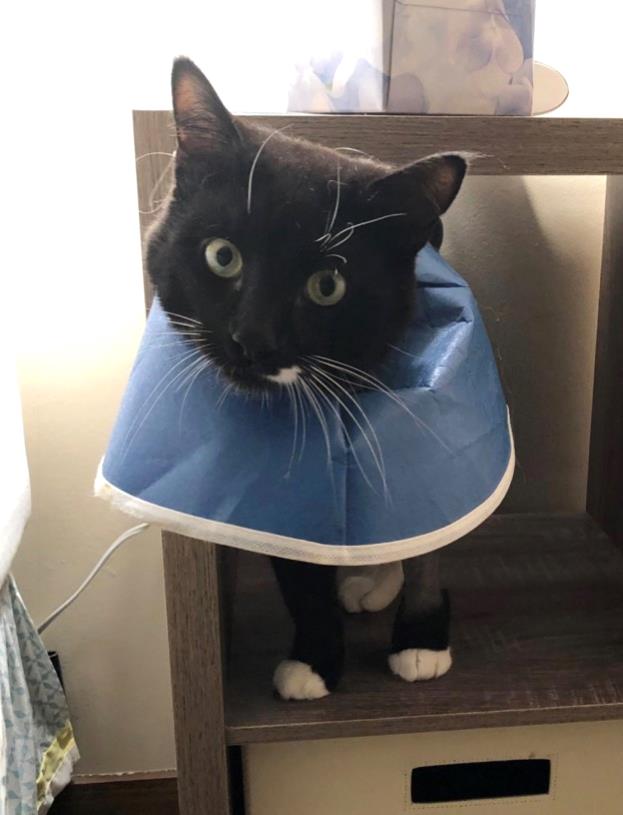 Cats on the streets have no idea that things are different. They still struggle to get enough to eat, to be safe, to stay warm and dry. And we are still out there because they are. Despite present circumstances, Kitty Angels' volunteers have stayed dedicated to our mission to help the strays, ferals, and those with serious injuries or medical conditions. Our volunteers are out there every day, rescuing, feeding and taking care of the cats that need their help. Every day.
Strays and ferals persevere as a matter of survival. They persevere with injuries, sickness and starvation. What else can they do?
We have taken in so many cats this year who have demonstrated perseverance in the face of adversity and we take heart in their recovery stories. Some of these cats are featured inside this newsletter, but let's begin with the story of Bingo.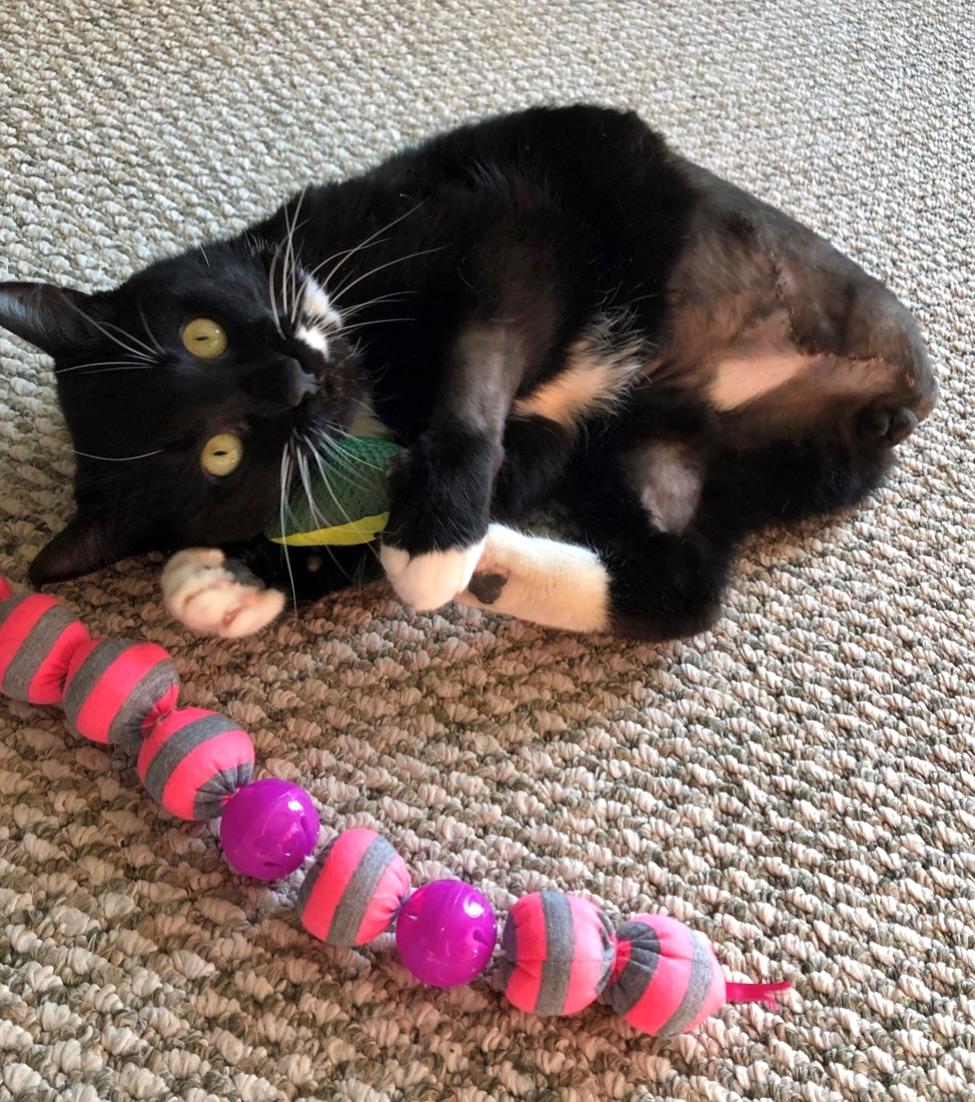 Someone reached out to us after seeing a cat foraging for food on the side of a busy road. He was limping, and what little was left of his tail was a hairless stump of exposed bone. After volunteers trapped him, poor Bingo was also found to be suffering from a badly broken femur. His back leg was literally in pieces. Hit by a car weeks before, he had suffered terribly trying to survive. Bingo needed to have his back leg amputated and the exposed bone of his tail removed. He had a long and grueling surgery and despite the best of care and lots of pain meds his initial recovery was very difficult. He had lost quite a bit of blood and for a short time we had to be ready at a moment's notice to rush him to an emergency vet for a blood transfusion. Thankfully, he squeaked by without needing one. Because of his wonderful disposition, he became a favorite at our veterinary hospital and one of the veterinary technicians took him home to foster. He made a remarkable recovery and his foster mom fell hopelessly in love and could not part with him.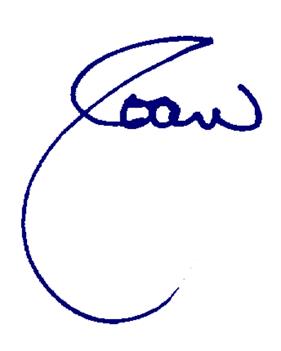 Cats like Bingo have no alternatives but to persevere, no matter how difficult their circumstances. If Bingo hadn't been rescued and treated, he would not have survived. But, because of your donations we were able to rescue him and get him the costly treatment that saved his life. We've come to the time of year when we traditionally ask for your help. Donations during the past year have be so much less than what we usually receive, yet our expenses are as high as they ever have been. Your generosity will make it possible for us to continue to save the cats that live and suffer in the shadows. We thank you, and they thank you, for whatever help you can give.
---
"To ease another's heartache is to forget one's own." Abraham Lincoln
---
HOW YOU CAN HELP KITTY ANGELS
Money...to pay for the daily care and medical bills of the cats.
Shop amazon.com at kittyangels.org/amazon, select Kitty Angels as your preferred charity, and a portion of your purchase will benefit Kitty Angels!
Use igive.com to shop, donate through Facebook (best for Kitty Angels), PayPal (next best) or Network for Good (anonymous and/or recurring donations)...see kittyangels.org/howtohelp.html
Specify that a portion of your eBay auction sales benefit Kitty Angels and get an eBay "Giving Works" icon for your listings.
Use your employer's Matching Gift Program; specify that your United Way payroll donation go to Kitty Angels.
If you have small antiques, collectibles or other items to donate please contact Gail Mosher at 978-430-8055 or e-mail gailmosher@gmail.com. 100% of the proceeds will go to Kitty Angels.
Donate Gift Cards, Medical supplies, Prescription drugs and foods, Cat Food, Litter, Stamps, Cleaning Supplies, Towels
For these and other ways to help, please visit the How to Help page on our web site at kittyangels.org/howtohelp.html
For updates and events check our website and Facebook page (which now has over 9.600 followers).
---
They Rely on Your Generosity
Each year brings increasing numbers of cats into our shelter, requiring that we supply more veterinary services, food, litter and shelter space — and that we care for a growing number of "unplaceable" cats in foster homes and TNR colonies. We're so grateful for your donations — without them so many of the cats that we have been able to save would have simply been added to the grim statistics of animal suffering. Thank you so very much for your help — but please understand that our task never ends and that we need your continued support to continue our work!! There are so many ways to help — some are listed here and you can find more information on our web site.
---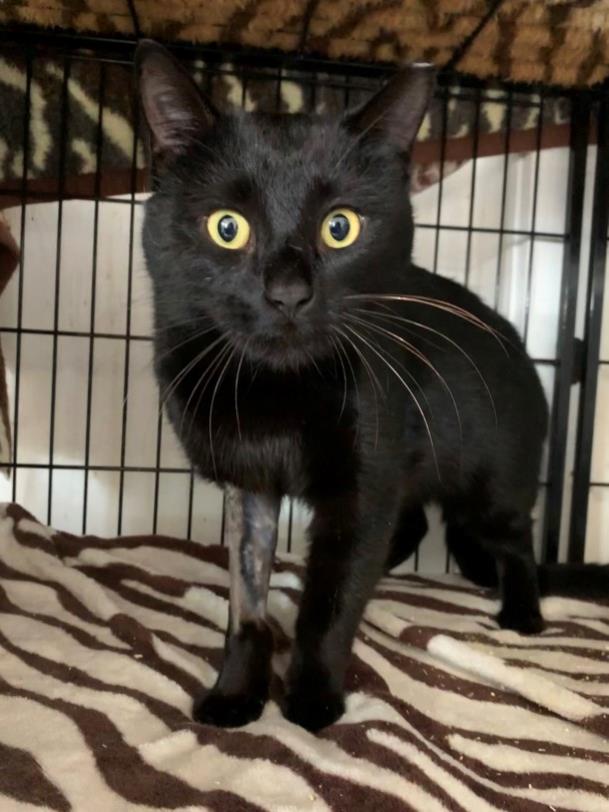 PORKCHOP had a horrible life before being rescued. The kind woman who had been feeding him knew he was in serious need of medical help when, after being missing for weeks, he showed up with a bad limp. A Kitty Angels volunteer trapped him and brought him to our vet where they discovered that, in addition to limping on a hind leg, he had a badly abscessed wound on a front leg. An X-Ray revealed that he had been shot, the pellet lodging in his leg and causing massive damage to his kneecap. His limp will be permanent. As if this isn't sad enough, X-Rays also revealed that he has a second pellet embedded in his abdomen. Porkchop had a long road to recovery for his physical and emotional trauma, but despite his many travails he has finally found peace and love in his forever home.
---
"Doing nothing for others is the undoing of ourselves." Horace Mann
---
THE REMARKABLE JOURNEY OF THE TINY DANCERS by Lesa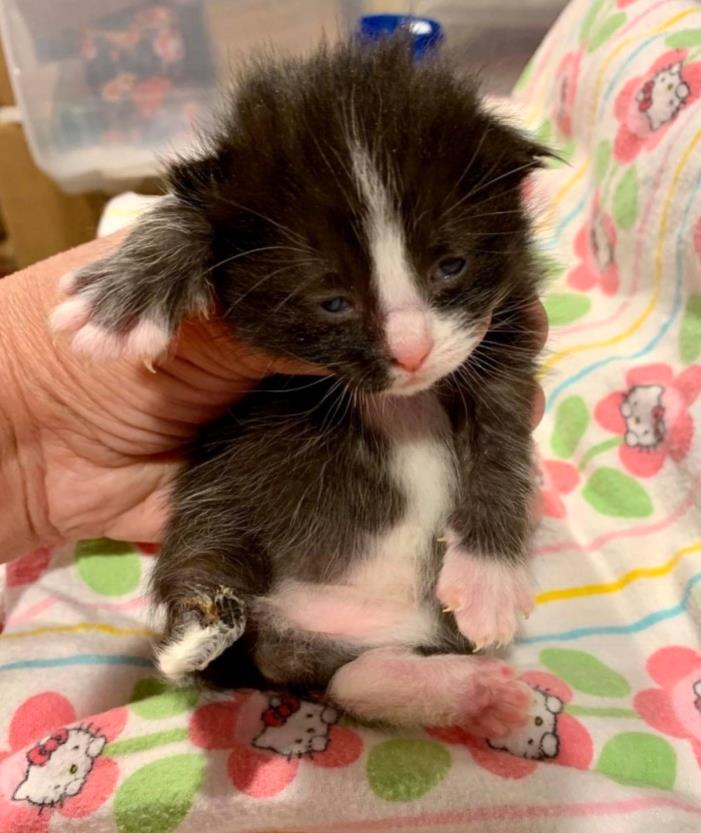 May 1 - A few days ago, a mother cat and her four newborns were rescued from under a porch, and I took them home to foster. Today I noticed something terribly wrong with one of the kitten's back legs. Taking the mom and kittens to the vet we discovered that the kitten had bite wounds to his foot, leg, and tail. Who knows what had happened to him in the hours before he was rescued? But at only five days old, this was life-threatening. Our vet did not hold out much hope that the kitten would survive, but we had to try. Mom had her own issues. She had a fever of 103 and needed emergency and supportive care. Since then, both have been getting antibiotics daily, but each day the kitten's little foot shrivels up more and more. He is on daily minuscule doses of antibiotics and pain medication and will continue to be seen regularly by our vets.
May 4 - I bought a small food scale and am closely monitoring his weight daily. He has made small, but steady, weight gains; his eyes are just starting to open, and he is starting to crawl. As of today, he is nine days old and weighs 6.8 ounces. I need all the positive energy, love, and prayers for this little fighter. I'm totally in love with him, his three brothers, and his super sweet mom.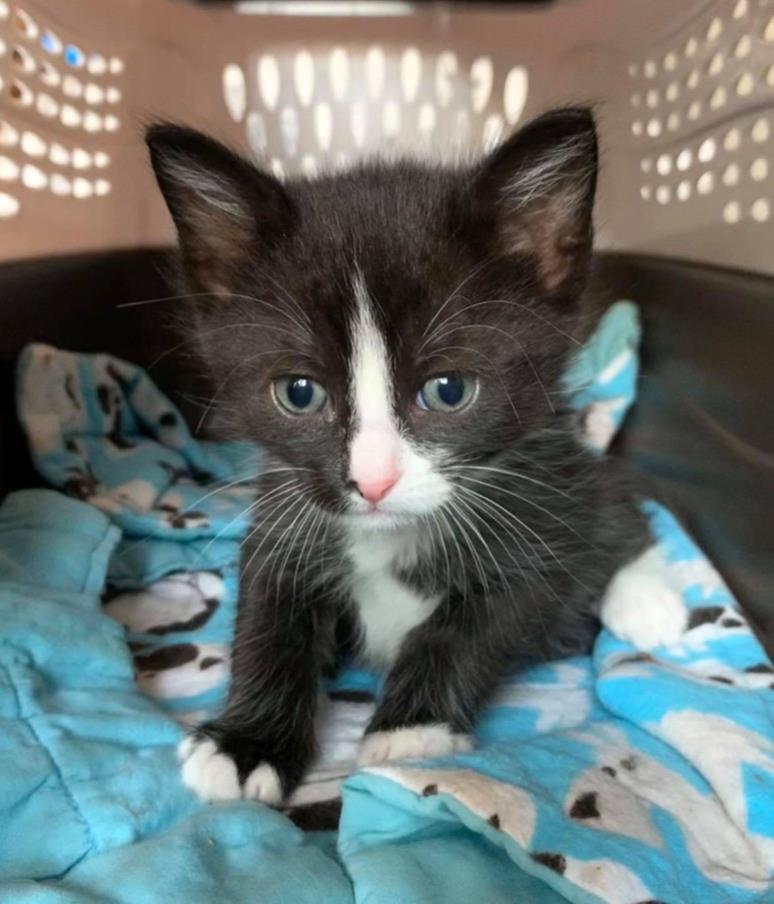 May 5 - Update on the sweetest little cat family ever. On Sunday morning, I discovered that most of the kitten's tail had fallen off during the night. Additionally, the wound on the back of his upper leg had opened and was deeper and infected, so Mom, babies, and I made an emergency visit to the vet. Our vet said that this is the process of his little body rejecting his dying leg. She told me to expect the foot to fall off, followed by his rear leg. If the leg does not fall off on its own, they will have to amputate it.
After I put the carrier back in my car, I sat in the parking lot and sobbed for several minutes. I'm so grateful for this kitten's will to live. Each day he continues to gain weight and strength. I need this baby to survive this unimaginable ordeal. He deserves his chance for the most incredible life that is yet to come. So, on we go...
May 9 - The babies are learning that they have feet and that they can roll around. They're silly.
May 12 - Our little dancers are doing well. We've named Mom Cha-Cha, our little champion kitten Rumba, and brothers Tango, Samba, and Bolero. Rumba had another X-ray on the leg, which has shriveled considerably over the past week. Mom seems to be doing well and both will go to the vets again this week. In the meantime, Rumba seems happy, which is the best we can hope for at this point. The antibiotics seem to be doing their job in keeping the necrosis from spreading. So, our little guy is not out of the woods yet, but we are all doing our best to get him there.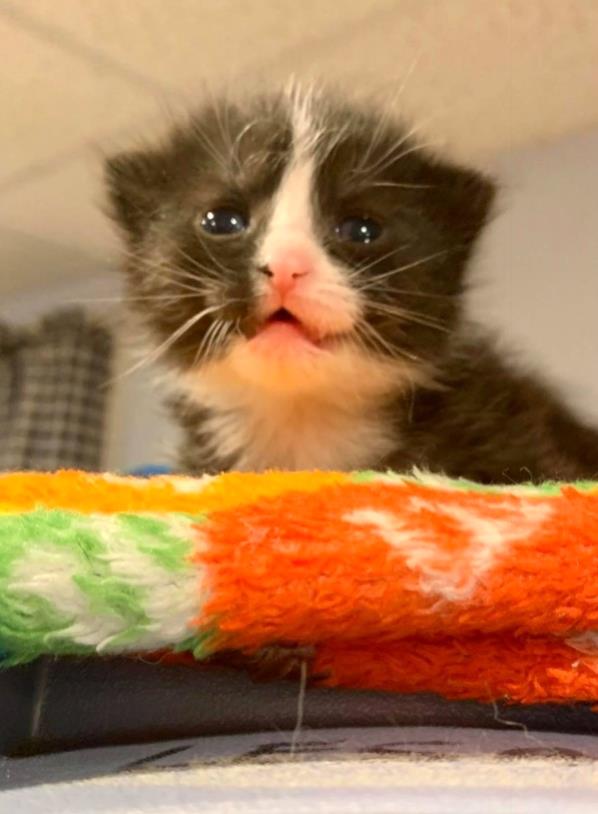 May 15 - Baby Rumba's leg did indeed fall off, so we all made a trip to the vet again. As shocking as that sounds it was not unexpected. Where the necrotic leg fell away, it is healing and the tissue there looks healthy.
May 19 - Quick update of Cha-Cha and her tiny dancers... Yesterday, Rumba lost a small remaining bit of tail. The whole family visited our vet today and she was thrilled with how great he is doing. Everyone is in good spirits and the babies are silly hooligans!
Final update - We were thrilled that Rumba healed without needing surgery. All the family members have been adopted into the most incredible homes.
Without your generous help, these little guys, and Mom, would no longer be in this world. Thank You So Much!!!
---
"The fate of animals is of far greater importance to me than the fear of appearing ridiculous." Emile Zola
---
Please Help Break the Cycle of Overpopulation!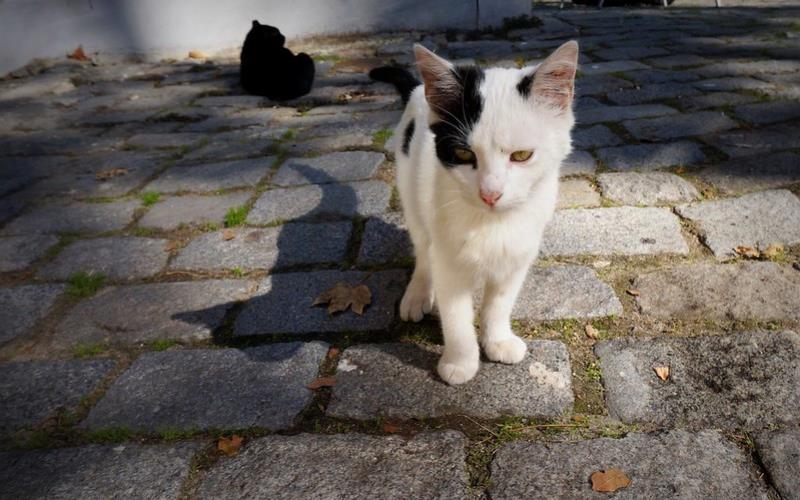 Kitty Angels offers a Low Cost Spay/Neuter Clinic once or twice a month (on Sundays) at Animal Rescue Veterinary Services in Londonderry, NH.
Cats are spayed or neutered, receive distemper and rabies vaccinations, a physical exam, and are microchipped. Other treatment can be provided for an additional fee. Kittens must weigh a minimum of 2 pounds. A suggested donation of $90 per cat is requested and grant money may be available for those who cannot afford the fee.
The BEST WAY to make an appointment is to email lindab@kittyangels.org. She is the only one who can book appointments for our clinics. If you don't have internet access, call us at 978-649-4681 and someone will get back to you. Cats are dropped off in the morning and picked up later the same day.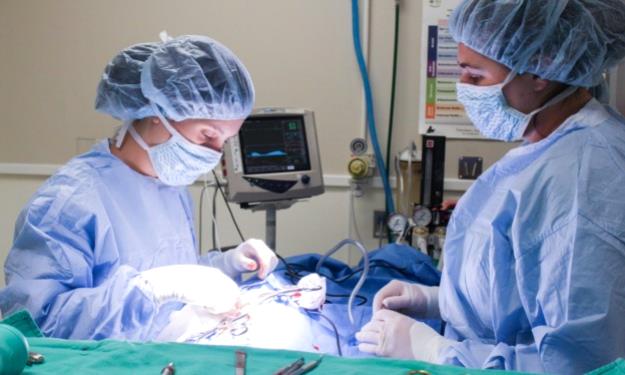 We spend countless hours dealing with the tragic results of cat overpopulation. In 2020, our low cost spay/neuter clinic, which we established over ten years ago, altered over 400 cats. Requests for assistance grow every year. Can you help us continue to save lives and spay and neuter cats that would otherwise not be done? Any donation amount will help! If you were a recipient of our clinic services, your donation will help. Please help break the cycle of pet overpopulation!
---
Volunteering – how you can help…
Feeding Feral Colonies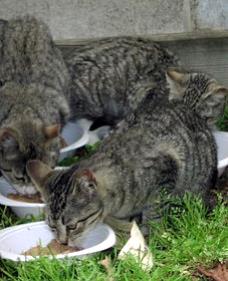 We have many feral colonies that are fed and cared for by Kitty Angels volunteers every day. Some people feed once a week or several times a week or offer to sub if a feeder cannot cover a shift. We are committed to our colonies, monitoring the health and wellbeing of the cats and watching for new cats that appear and may need help. Food and water, your time and a kind word make all the difference in their lives. We have locations in Nashua & Hudson, N.H. and our most critical need is for several areas in the Boston area, Roxbury and Dorchester, MA
We are also looking for people to help with the care and feeding of the cats at our adoption center located in the PETSMART store in the Royal Ridge Center at Rte. 3, Exit 1, in Nashua, NH. Please contact us for more information.

---
MANGO was a feral cat living on the streets when he was rescued. Arriving in his foster home after being neutered he started throwing up and passing pieces of a plastic bag.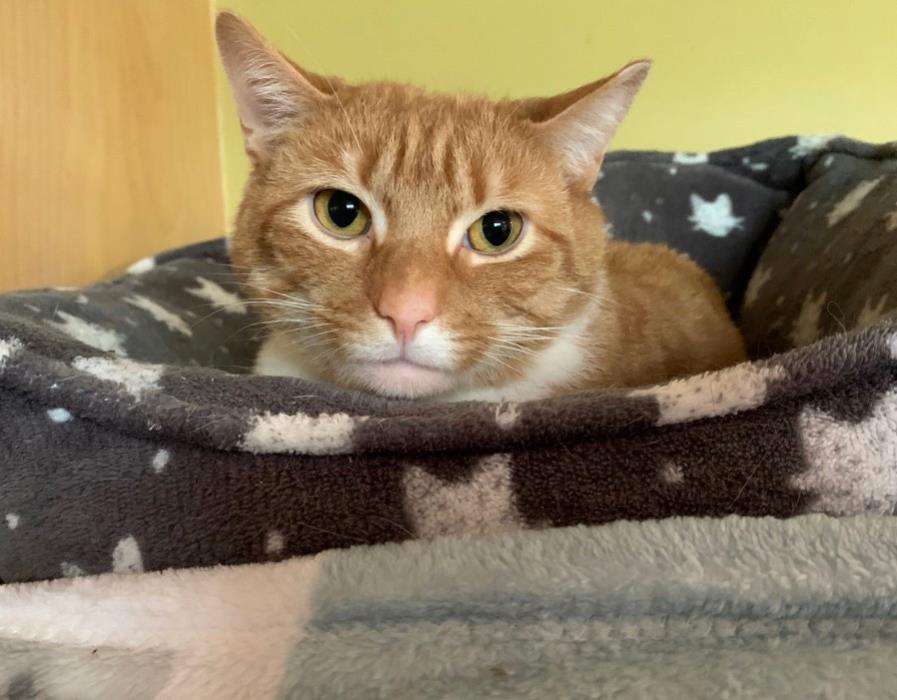 It seemed evident that Mango, starving on the streets, must have become so hungry that he ate a plastic bag containing remnants of food. His medical condition quickly became critical and he was hospitalized with the expectation that he would need emergency surgery. Thankfully, after a week of intensive care, his crisis passed. After returning to his foster home, however, he was scary aggressive to his foster mom. He would lunge and strike her every time food was placed in his cage. As the time grew closer to his expected re-release, his foster mom decided to offer him a special treat of chicken. He lunged at her once again. But this time she was so tired of his attacks, with his razor-sharp nails, that she grabbed him in a towel, yanked him out of his cage, and trimmed them all. He was surprisingly tolerant! As she sat and held him, she began to slowly pet him and he started to PURR. He's not going back out.
---
"You have not lived today until you have done something for someone who can never repay you." John Bunyan
---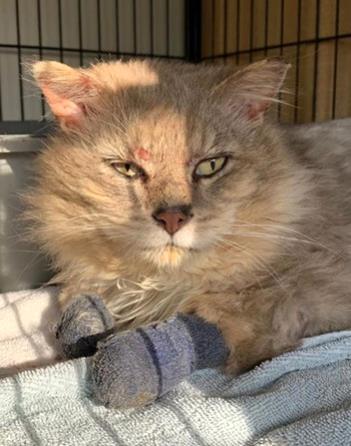 PARSNIP was a new arrival at a large feral colony. When he arrived, almost none of the thirty cats in the colony were neutered or spayed. His arrival was not welcomed, and for four months he was viciously attacked, over and over again, by the dominant males. When we finally caught him and brought him to our vet, they found that he had a large open wound on his right front leg that was too large to be sutured closed, large abscesses from ingrown extra claws on both front feet and many, many bite wounds. He was also FIV positive and, we assumed, feral. When asked if we still wanted to tackle this medical disaster, we of course said yes. He spent months with us, going in and out of the vets for additional surgeries on his leg. The tissue became reinfected time and time again and refused to heal. The possibility of amputation was discussed. Refusing to give up, after many attempts our vets finally successfully sutured the wound and saved his leg. Parsnip turned out not to be a feral cat. Rather, he was a discouraged, abandoned and fearful cat that had been out for a long time. As the weeks went by his foster home convinced him that he could trust people again. He has since been adopted into a most incredible home!!
---
ABOUT KITTY ANGELS
Kitty Angels is a no-kill shelter dedicated to rescuing stray and abandoned cats, furnishing them with treatment for injuries or other health problems, and placing them into life-long, loving, indoor homes with compatible owners. We take all necessary steps to ensure the well being of our cats, including emergency and routine medical care, screening for infectious diseases, spaying and neutering, microchipping and providing rabies, distemper and other necessary medical care. We take in, and place or foster, hundreds of cats each year and deal with many feral cat populations. Kitty Angels is an all-volunteer organization. We have no paid staff — every cent of every donation goes to caring for needy cats! Because the cost of caring for our cats greatly exceeds our adoption fees, we depend on the generosity of individuals and businesses to make up the difference. Please consider making a tax-deductible donation today...and, please be sure to send us a Matching Gifts Form if your employer offers one...we, and especially the cats, would very much appreciate it!! You can do so through:
the "DONATE" button on our Facebook page
mailing a check to Kitty Angels, P.O. Box 638, Tyngsboro, MA 01879
PayPal (credit card or debit card ok - no account needed)
Network for Good (allows anonymous donations)
---
ENDURING SUPPORT
In the 39 years since our founding, Kitty Angels has been fortunate to have many long-term supporters. In recent years, an increasing amount of our funding has come from bequests from the estates of these committed benefactors. The enduring impact of these bequests, both large and small, has helped Kitty Angels expand its life saving programs and find loving homes for the neediest of animals. By naming Kitty Angels as a beneficiary in your will or estate plan, you can support Kitty Angels' future efforts as well as gain financial and tax benefits for you and your family. Your estate planner can explain the different ways you can make a bequest to Kitty Angels or you can contact us. We thank all our supporters for their wonderful generosity!!
---
A very special thanks to all of you who have opened your hearts and homes to animals; to those who have donated in some way to help us or others who act in concert with our cause; and to our team of dedicated volunteers and foster home caregivers. You are the ones whose compassion, kindness and generosity makes the difference. We couldn't do what we do without your continued support.
Thanks to PETsMART for providing us with first class space in their store in the Royal Ridge Mall in Nashua, NH. You can see some of our adoptable cats in the cages at the front of the store. Because of COVID we are not currently able to hold our usual weekend adoption days, but we are continuing to do adoptions by appointment.
---
Kitty Angels, Inc. is a 501(c)(3) non-profit charitable corporation. All donations to Kitty Angels are both federal and state tax-deductible to the extent permitted by law. Every penny of every donation is used in caring for cats. Federal ID 04-3270369; Massachusetts ID 034406
Kitty Angels, Inc. P.O. Box 638 Tyngsboro, MA 01879 978-649-4681 - kittyangels.org © 2020 Kitty Angels