---
Serendipity
by Joan Abbott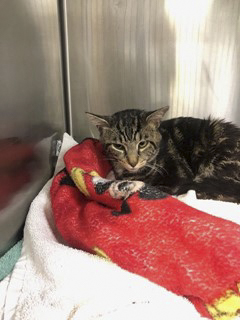 It was yet another year filled with needy cats. It seemed we would happen upon so many of them at a critical point for their survival. Roulette with a skull fracture and jaw injury, Edinburgh with a gaping wound, Ivan a one-day old kitten, Wyatt who needed an eye removed. We came across them sometimes by turning down the wrong road at the right time or bumping into someone who happened to mention a desperate situation. Sometimes it seemed as if the stars aligned, and they quite literally crossed our path.
All were in need of rescue and care, sometimes in the form of medical care, others in the form of nurturing care.
A few of these fortuitous cats you will read about in this newsletter; others you may have seen online, but every single one of them received the care they so desperately needed. Some may call our crossing of paths a stroke of good luck, some may call it fate; we like to think of it as serendipity. Whatever the case may be, we are grateful for the good fortune that brought these deserving souls to us so that we could be there for them when they needed us most. Zoom is one of those cats. On a brutally hot day Zoom was found motionless, covered with flies. Lying in the sun, hours passed before an Animal Control Officer was contacted to get him. By the time he arrived at the vet's his condition was critical with an extremely high, life-threatening, body temperature and terrible physical condition. As they worked to reduce his temperature, they noticed he also had severe neurological signs. His prognosis for survival now became even more unlikely.
They reached out to us.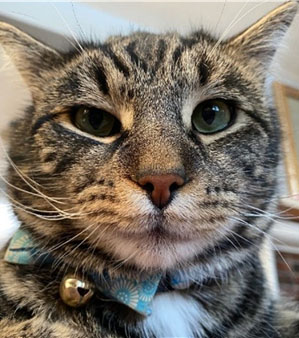 We immediately moved him to our vet where, despite being hospitalized for weeks, there was no improvement in his neurological signs. Scary ailments, like rabies and toxoplasmosis, were ruled out, as were many other things, His strength got better but he continued to be unable to walk without wobbling and falling over. Even eating was a struggle. The next step was a neurologist. Many possibilities were discussed. Had he been hit by a car or exposed to distemper at some point? Did he have an infection in the brain? The only way to find out was to do an MRI. While the MRI ruled out many serious things there was still no answer as to what caused his condition. But, during his hospitalization he charmed the staff with his nonstop purring and sweet disposition and, much to our delight, one of neurologists fell in love with him and adopted him.
She recently sent this update. "Zoom is doing great! He still has his right head tilt, facial nerve paralysis, and walks a bit wobbly, but he is otherwise a happy playful kitty. Quite adventurous, he loves to get into things, but his absolute favorite things are to nap in the sun and look out the windows at the birds. He is truly a wonderful little guy."
We are grateful for your generosity. Without your support we would not have been able to provide the care that they needed. May you all be blessed with peace, health and prosperity in the New Year.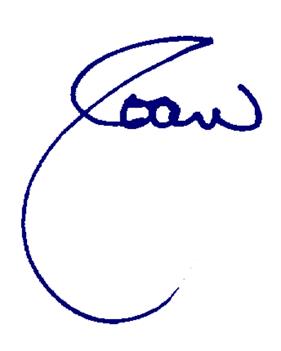 ---
"Too few rejoice at a friend's good fortune" Aeschylus
---
HOW YOU CAN HELP KITTY ANGELS
Money...to pay for the daily care and medical bills of the cats.
Visit the Kitty Angels Facebook page and click Donate (best for Kitty Angels). Facebook doesn't give us your contact information, so hold onto the Facebook email receipt for your tax records.
Donate through PayPal or Network for Good (for anonymous and/or recurring donations)...see kittyangels.org/howtohelp.html
Shop amazon.com at kittyangels.org/amazon, select Kitty Angels as your preferred charity, and a portion of your purchase will benefit Kitty Angels!
Shop at other online stores through igive.com or Giving Assistant - see kittyangels.org/howtohelp.html
Use your employer's Matching Gift Program.
Specify that your United Way payroll donation go to Kitty Angels.
If you have small antiques, collectibles or other items to donate please email Gail Mosher at gailmosher@gmail.com or leave a message with us. 100% of the proceeds will go to Kitty Angels.
Donate Gift Cards, Cat Food, Medical Supplies, Cleaning Supplies, Towels.
For these and other ways to help, please visit the How to Help page on our web site at kittyangels.org/howtohelp.html
For updates and events check our website and Facebook page (which now has over 9.600 followers).
---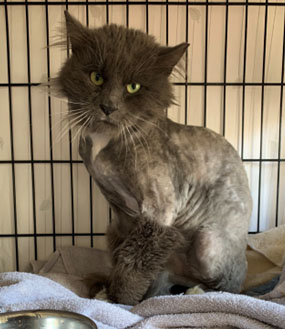 The injured stray cat was being difficult to trap. Our volunteer had been searching for it for days. Late one night, after trapping a raccoon, a skunk, and repeatedly trapping the same opossum, our volunteer was calling it quits and packing up for the night. When she went to close one of the traps, the opossum was in it again! Or so she thought. It was the stray who must have decided he'd had enough of the cold city streets.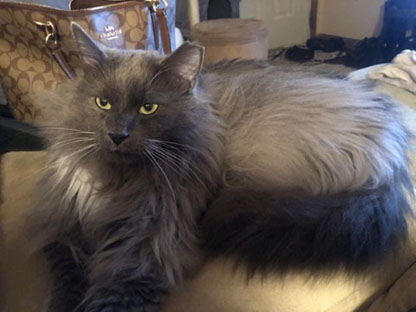 In addition to being terribly matted, he was terribly thin, and had a draining abscess on the side of his face. We named him Possum.
He had to be shaved, except for his head, the tip of his tail, and four fuzzy socks. He was extremely scared, shaking in fear and lashing out. Once he realized that we were not going to hurt him he eventually could be approached for petting. He went from being an injured, frightened, starving stray, to looking like he just stepped off the cover of a cat fancier magazine!
---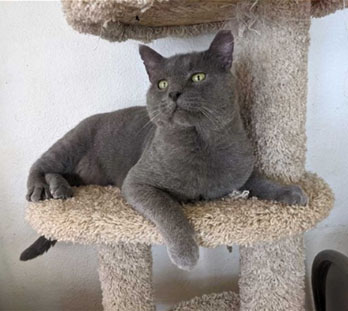 Pittie is another of our hard luck cases. While we were trying to trap another cat, this poor boy ended up being caught. We had never seen him before but we were thankful we caught him to provide the medical care he so desperately needed. Visible marks on his neck are permanent scars, representing just a small fraction of his many wounds. Pittie is also FIV positive. It is not hard to imagine how difficult his life had been on the streets. We are happy to report that his story has a happy ending – he has recently been adopted and is living the good life in his new, forever, home. Look at what a stunning happy cat he has turned into! Pittie owes his good fortune to you, our supporters, who make it possible for us to rescue cats like Pittie.
---
"The ideal of calm exists in a sitting cat." Jules Renard
---
THE FLORIDA KITTEN by Joan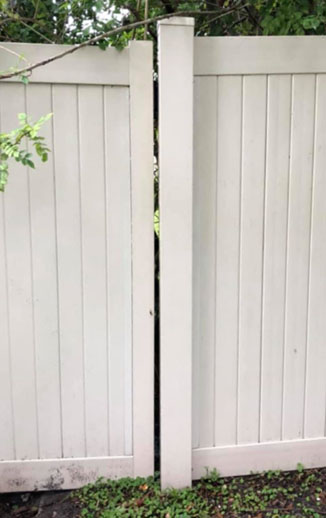 In forty years this was one of my most remarkable rescues.
While gardening in Florida I kept hearing a kitten crying. It sounded desperate. I knew it was coming from a neighbor's fenced-in yard but I could not see it. As I searched, I would cry out to the kitten and it would respond. As we continued this "conversation" I was able to pinpoint the exact location along the fence where the sound was coming from, BUT I could not find the kitten!
As I ran along the fence the sound was strong but still no kitten. I knew I was literally right on top of where the mewing was. Then I noticed a tree branch that crossed over the fence just above a six foot tall hollow plastic corner post. The "cap" that should have been on the top of the post was missing! Was it possible that the kitten was in there? I ran home to retrieve a ladder and flashlight and confirmed my worst nightmare.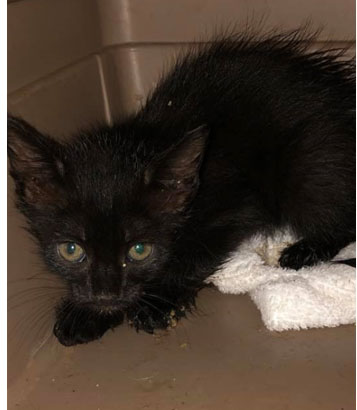 The kitten was at the very bottom inside of the post. It must have been crawling on the tree branch and fallen in. I could smell a stench as I peered down into the post. It had to have been there for several days of torrential rain and ninety-plus degree temperatures. It would die soon if we could not get it out. But how?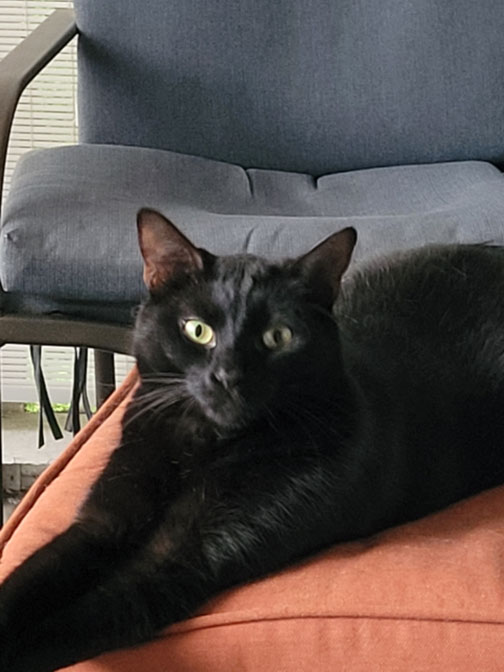 Various things were attempted and discussed. Dropping a rope down that it might climb up, perhaps a pool noodle? A long towel, a piece of screening? The post was only five inches across and after almost an hour of no progress, we realized the only solution was to cut through the plastic post. A small square was cut out of the post about 8 inches above the ground, seemingly just big enough to reach in and grab the kitten. But to our horror the post was sunk at least another two feet further below the ground. More sawing ensued.
Reaching down into the darkness I was encouraged to hear spitting and growling, but also a little scared given that I had no idea how large this feral kitten might be. But I was not going to let this kitten get away from me. I slowly dipped my hand in and, after several attempts, pulled out this tiny, but still feisty, morsel of a kitten. Covered in dirt, fleas, badly dehydrated and reeking of urine I rushed her home.
Thankfully she consumed a good amount of food and water. After a bath she collapsed with fatigue. We estimated her age to be about five weeks. I am so very thankful that I heard her crying and had the help of people who contributed their time, knowledge, support and sawing expertise. My apologies to the neighbor's fence, which we patched up. The kitten made a full recovery and was named "Joan's Grace" by her adopted family. Gracie is grown up, happy and healthy, And the cap was put back on the fence post.
---
"The dew of compassion is a tear." Lord Byron
---
Please Help Break the Cycle of Overpopulation!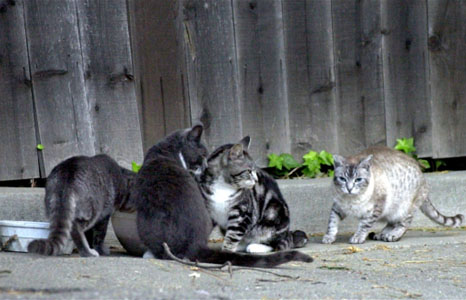 We are so proud that Kitty Angels has been offering a Low Cost Spay/Neuter Clinic for 12 years now, improving the lives of so many cats. Our clinic is held once or twice a month (on Sundays) at Animal Rescue Veterinary Services in Londonderry, NH.
Cats are spayed or neutered, receive distemper and rabies vaccinations, a physical exam, and are microchipped. Other treatment can be provided for an additional fee. Kittens must weigh a minimum of 2 pounds. A suggested donation of $90 per cat is requested and grant money may be available for those who cannot afford the fee.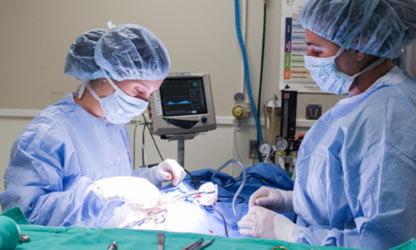 The BEST WAY to make an appointment is to email lindab@kittyangels.org. She is the only one who can book appointments for our clinics. If you don't have internet access, call us at 978-649-4681 and someone will get back to you. Cats are dropped off in the morning and picked up later the same day.
Requests for assistance grow every year. The cats we deal with at the low-cost clinic would not otherwise be neutered or spayed. Your donation, in any amount, will help us continue to run this much needed clinic.
---
TNR by Penny Williams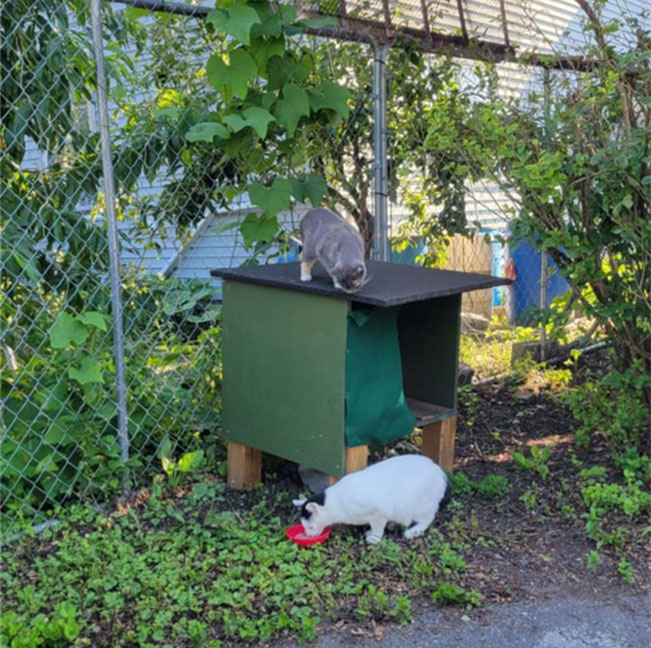 Did you know that Kitty Angels also does Trap-Neuter-Return (TNR)? TNR stops unnecessary reproduction, overpopulation and suffering. Here are a few examples:
After a local Animal Control Officer mentioned a situation with a mom and four kittens, a Kitty Angels volunteer and a homemaker, working together, trapped all five cats. The kittens went to foster homes and were adopted after being vetted, vaccinated and neutered. Mom was feral, so she was vetted, ear tipped and microchipped and returned to her outdoor home. KA provided an outdoor shelter to the homeowners, who were happy to have her back. They will provide her food and water for the rest of her life.
Months ago, we received an email from someone who was concerned about two mothers with kittens. But that was just the tip of the iceberg! So far, twenty-two cats have been trapped. Nine kittens and four adults went to foster homes and were adopted. The remaining adults were TNR'ed. We set up a feeding station and Kitty Angels volunteers continue to monitor the colony and provide food and water every day.
There are no days off for the remarkable volunteers who trap, transport and care for these cats. Some cats get the chance to become pampered house pets. The remaining TNR cats are fed, monitored and provided with necessary medical care and lead much healthier lives. It's an everyday labor of love. These ferals may not be fond of us humans, but we become very fond of them.
---
They Rely on Your Generosity
Each year brings greater numbers of cats into our shelter, requiring that we supply more veterinary services, food, litter and shelter space — and care for an increasing number of feral cats and colonies. We're so grateful for your donations — without them so many of the cats that we have been able to save would have simply been added to the grim statistics of animal suffering. Thank you so very much for your help — but please understand that our task never ends and that we need your continued support to continue our work!! There are so many ways to help — you can find more information on our website.
---
"If you want others to be happy, practice compassion. If you want to be happy, practice compassion." Dalai Lama
---
CURRY
We were alerted about a cat seen limping badly outside of a senior center. Despite their concerns, the residents were reprimanded for putting food out for him and were told they had to stop feeding immediately.
It was obvious he was seriously in need of help, so we set a trap, and, after several weeks, we caught him.
At the vet's they found four broken canines, luxating patellae that were causing his limp, arthritis in his spine and hips and thick scar tissue on the pads of his feet that required debriding. He was also FIV positive and had small sores all over his body caused by a food allergy. Based on his age and sad physical condition he had likely been outside for years.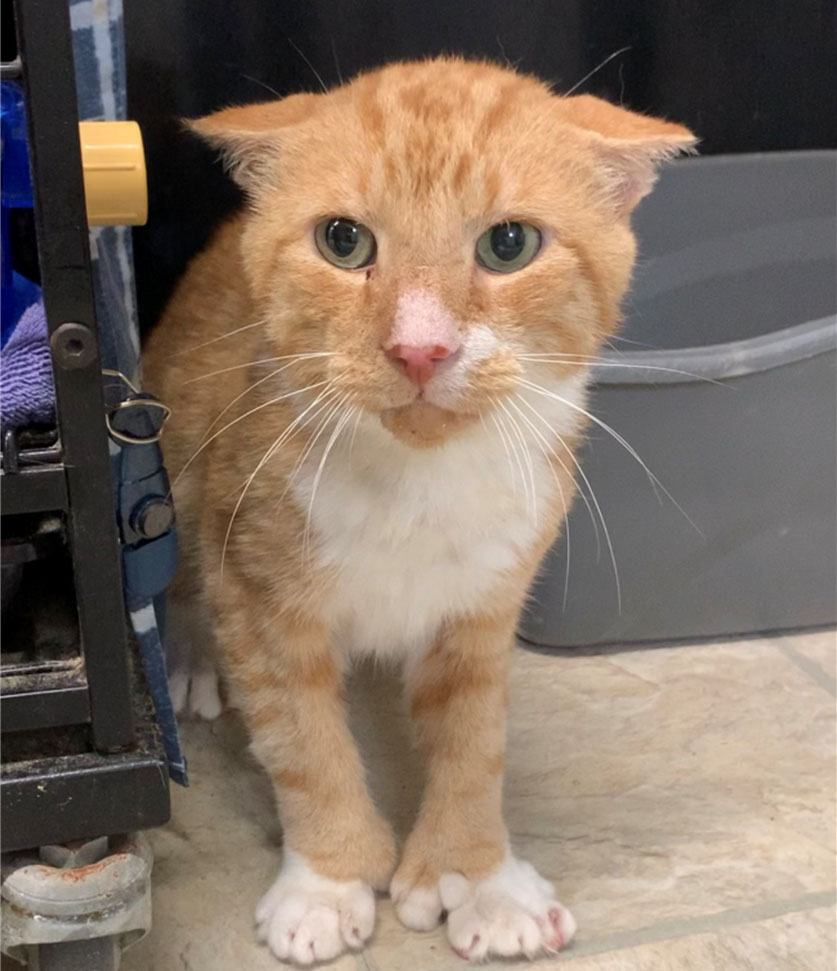 There is something heartbreaking about him as he does not present as a true feral. He has extreme fear aggression and is so terrified that he responds by howling and lashing out as you reach out to him. But progress has been made. His broken canines were taken out, he is eating a prescription diet for his skin, and is receiving long term pain meds to help his arthritis.
While his physical issues have mostly been addressed the emotional scars from his past are still a challenge.
We do see small signs of improvement. His foster can wrap him in a towel and pet and scratch his cheeks. He leans into the scratches, tucks his feet up under his body and shuts his eyes while enjoying the physical contact, but only for short periods of time. Once back in his cage it's almost like starting all over with the fear response, as if he has forgotten that he had previously enjoyed the contact.
In time he will be adoptable, but it will be a long journey. And, we won't give up on him – we'll be with him every step of the way.
Curry is exactly the type of cat that Kitty Angels was founded to help – the strays and ferals who live and suffer in the shadows.
Please consider making a tax-deductible donation in ANY amount to help us carry on with our mission to help the neediest at-risk cats. You can do so by clicking on the "DONATE" button on our Facebook page; mailing a check to Kitty Angels, P.O. Box 638, Tyngsboro, MA 01879; or using the PayPal link on our website. Thank you for your support! Your donations saved CURRY and can save so many others!
---
ABOUT KITTY ANGELS
Kitty Angels is a no-kill shelter dedicated to rescuing stray and abandoned cats, furnishing them with treatment for injuries or other health problems, and placing them into life-long, loving, indoor homes with compatible owners. We take all necessary steps to ensure the well being of our cats, including emergency and routine medical care, screening for infectious diseases, spaying and neutering, microchipping and providing rabies, distemper and other necessary medical care. We take in, and place or foster, hundreds of cats each year and deal with many feral cat populations. Kitty Angels is an all-volunteer organization. We have no paid staff — every cent of every donation goes to caring for needy cats! Because the cost of caring for our cats greatly exceeds our adoption fees, we depend on the generosity of individuals and businesses to make up the difference. Please consider making a tax-deductible donation today...and, please be sure to send us a Matching Gifts Form if your employer offers one...we, and especially the cats, would very much appreciate it!! You can do so through:
the "DONATE" button on our Facebook page
mailing a check to Kitty Angels, P.O. Box 638, Tyngsboro, MA 01879
PayPal (credit card or debit card ok - no account needed)
Network for Good (allows anonymous donations)
---
ENDURING SUPPORT
In the 40 years since our founding, Kitty Angels has been fortunate to have many long-term supporters. In recent years, an increasing amount of our funding has come from bequests from the estates of these committed benefactors. The enduring impact of these bequests, both large and small, has helped Kitty Angels expand its life saving programs and find loving homes for the neediest of animals. By naming Kitty Angels as a beneficiary in your will or estate plan, you can support Kitty Angels' future efforts as well as gain financial and tax benefits for you and your family. Your estate planner can explain the different ways you can make a bequest to Kitty Angels or you can contact us. We thank all our supporters for their wonderful generosity!!
---
A very special thanks to all of you who have opened your hearts and homes to animals; to those who have donated in some way to help us or others who act in concert with our cause; and to our team of dedicated volunteers and foster home caregivers. You are the ones whose compassion, kindness and generosity makes the difference. We couldn't do what we do without your continued support.
Thanks to PETsMART for providing us with first class space in their store in the Royal Ridge Mall in Nashua, NH. You can see some of our adoptable cats in the cages at the front of the store.
---
Kitty Angels, Inc. is a 501(c)(3) non-profit charitable corporation. All donations to Kitty Angels are both federal and state tax-deductible to the extent permitted by law. Every penny of every donation is used in caring for cats. Federal ID 04-3270369; Massachusetts ID 034406
Kitty Angels, Inc. P.O. Box 638 Tyngsboro, MA 01879 978-649-4681 - kittyangels.org © 2021 Kitty Angels