Adoption Days are back, starting September 23! See News for details
Site updated
November 22, 2023
Kitty Angels is a no-kill shelter dedicated to rescuing stray and abandoned cats, furnishing them with treatment for injuries or other health problems, and placing them into life-long, loving homes with compatible owners. We take all necessary steps to ensure the well-being of our cats, including screening for infectious diseases, spaying and neutering, and providing rabies, distemper and other necessary vaccinations. As a general policy, Kitty Angels sets no limits on the amount of veterinary care which it will provide to a sick or injured cat to return it to a state of good health prior to placing it in a good home.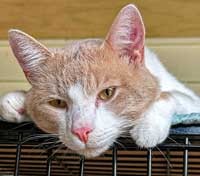 We also believe in the importance of expanding the public's awareness for the need to neuter and vaccinate all pets. All of Kitty Angels' work is accomplished by a network of dedicated, unpaid volunteers whose common objective is to ameliorate the problems of the existing homeless feline population while simultaneously working towards reducing their future numbers through the combination of feline sterilization and public education. We serve the Eastern Massachusetts and Southern New Hampshire areas.
Please nose your way around our web site, where you'll find more information about us and what we do, a selection of our many adoptable felines, information on how to adopt (including Adoption Days where you can meet the cats) and how to help us with our all-volunteer efforts. There's also a page of articles and links, an alumni album of cats previously adopted through Kitty Angels and news of events and Adoption Days. You can sign up for our Newsletter email list. Please Contact Us if you need more information.
Donations to Kitty Angels can be made online through PayPal or Network For Good. You can also help us when you shop at amazon.com, or other online stores through iGive or Giving Assistant! See the How to Help page for more information.
---
Support Kitty Angels by donating or shopping through these links
Kitty Angels, Inc. P.O. Box 638 Tyngsboro, MA 01879
978-649-4681 - www.kittyangels.org
© 2023 Kitty Angels