Alumni page 81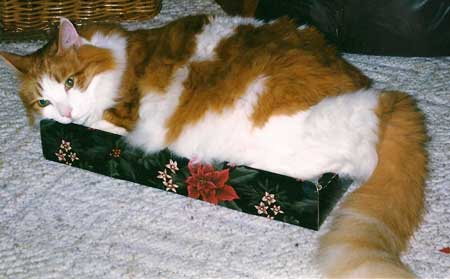 Joan writes, "Sydney, a Maine Coon cat (top), and his litter brother Mittens (bottom), were adopted in March 1995 at a cat show in Concord, NH. At the time, they were two years old. Sydney is looking forward to his 17th birthday this January. He has been enjoying his retirement years at his adoptive home in Londonderry, NH.
"Mittens is inspecting the cat canisters that are on top of the refrigerator. Mittens loved to entertain and that is why his nickname was "The Showman". Although he is no longer with us, we have many of his antics to remember.
"Sydney, Mittens and I were very thankful that Kitty Angels brought us together. We wish that you will have many successful adoptions in the coming years. Thank you again for the many happy years we have spent together."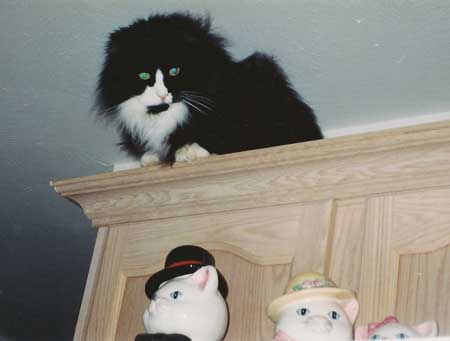 ---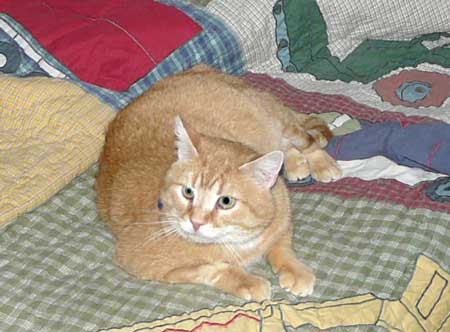 Brian writes, "Milo has made himself quite comfortable in our house and is becoming friends with Max (named Jet when we adopted him from Kitty Angels). Thanks for the two additions to our household!"
---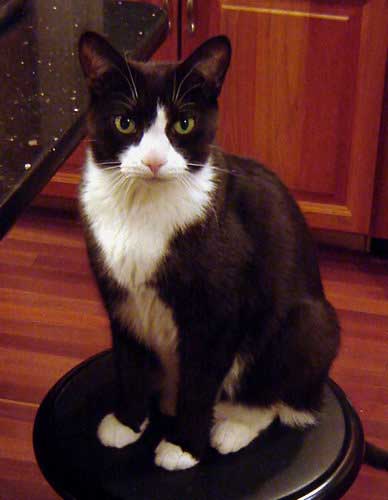 Christine writes, "This is our boy Reggie, adopted from Kitty Angels in June 1996. Today is his 14th birthday. He has recently been diagnosed with luekemia but it is being treated. We hope he'll be around for at least another year, we love him so much."
---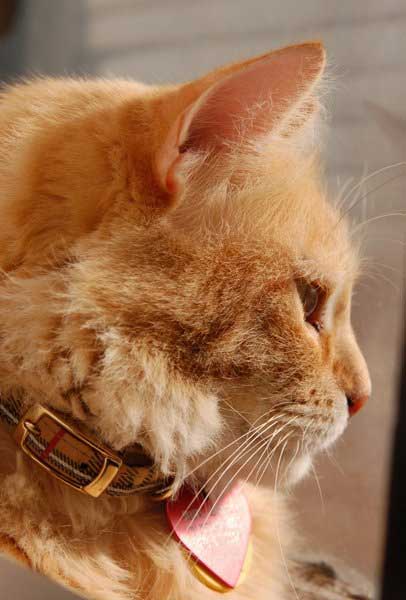 Kris writes, "This is Mr Shamus. We adopted him from Kitty Angels in February 2007.
---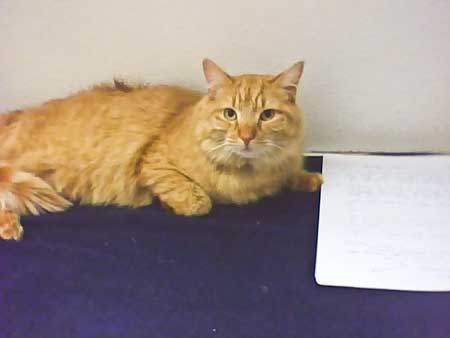 Pat writes, "Just wanted to up-date you on Louie. He is now the complete boss of the house! He is doing great, and follows us from room to room. He does not like to be alone at all. He especially bonded with Ed (he is retired and at home all day while I am at work). Louie and Ed nap together in the afternoon, and one morning I thought that Ed went to bed with a hat on his head. When I looked closer, It was Louie curled up on Ed's Head! It looked as though He had a "Davey Crockett " hat on tail and all. He has found his way into the heart of every friend, family and visitor to our home. He loves everyone, and they love him. Such a gentle cat.
"Thanks again for Louie, we just love him."
Kitty Angels, Inc. P.O. Box 638 Tyngsboro, MA 01879
978-649-4681 - www.kittyangels.org
© 2023 Kitty Angels