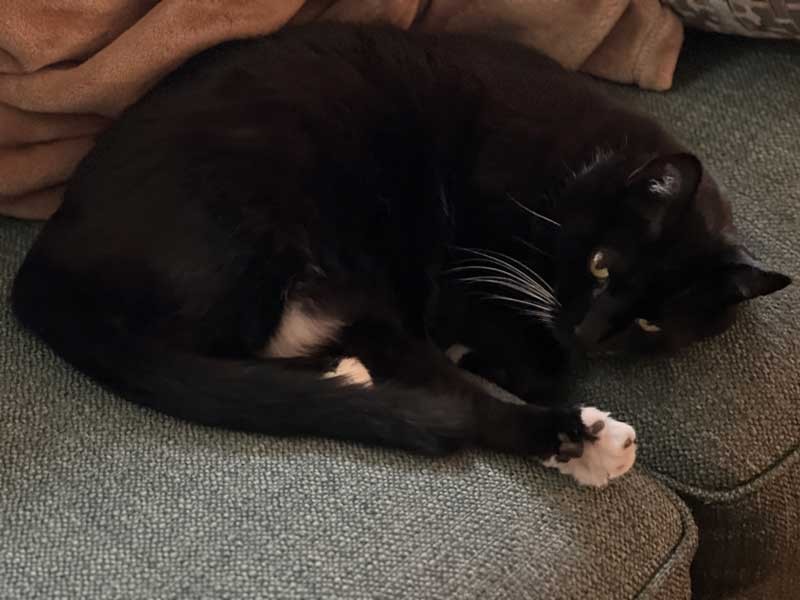 "Bailey"
Breed

Domestic Shorthair

Color

Black and White

Gender

Male

Age

About 13 years (Adult)
Hi, my name is Bailey and I'm a beautiful Tuxedo. My mom can't keep me anymore because she is old and needs to move away to be near her family who lives in San Antonio. She needs them to take care of her and can't bring me with her. She is staying here till I find a home. She wants to be sure that I will be OK.
I'm a really good cat! My fur is exceptionally soft and I'm very affectionate. I love attention, petting, cuddling and being around my people. Because I'm a senior cat and set in my ways, I need a quiet home and I need to be an only cat. I get lonely if my people are away too long and believe me, I let them know about that when they do get home!
I really love people. They say I love to be the center of attention whatever that means.
I'd be a perfect companion for an older person or someone who's alone and works at home most of the time. I'm in good health for my age and still have a lot of love to give to the right person.
If you think there is a place in your home and in your heart for me, please adopt me.
Bailey has been adopted! For other cats looking for new homes, please visit our Featured Felines page, see us at one of our Adoption Days, or contact us.
Kitty Angels, Inc. P.O. Box 638 Tyngsboro, MA 01879
978-649-4681 - www.kittyangels.org
© 2023 Kitty Angels