We have temporarily suspended our Adoption Days at PETsMART in Nashua. If you are interested in adopting, please email us for an appointment.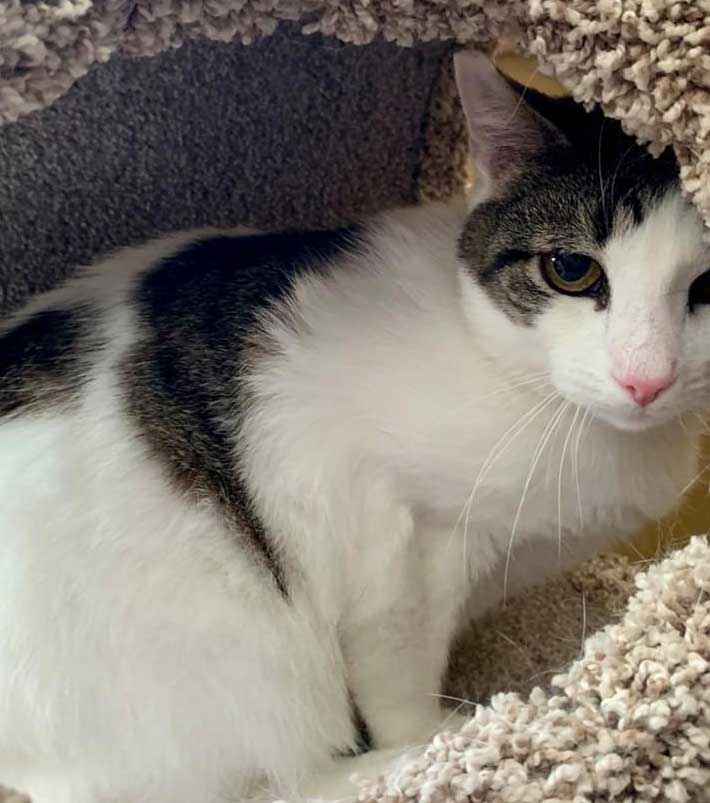 "Dougie"
Breed

Domestic Shorthair

Color

White and Gray Tiger

Gender

Male

Age

About 2 years (Adult)
Dougie and Wild Bill were the last two cats to be rescued from a feral colony. We weren't convinced that these two boys were truly feral, although they did give us a challenging time initially, but only because they were frightened and defensive. Over the next few months, they became increasingly trusting, and more receptive to being petted and having their cheeks scratched. They now love to be petted and will purr and head butt you. Dougie (predominantly white) is the more outgoing of the two. He will purr and seeks out affection. Wild Bill is a bit more reserved and depends on Dougie for comfort. Don't let his name fool you; Wild Bill is far from wild. He's a sweet and gentle, shy little gentleman.
These two boys would love to find a forever home together in an adult household, and would be fine with other cats, and/or a gentle dog. They had been very down on their luck before they came into our care and we would just love to find a patient and loving home for them.
Dougie has been adopted! For other cats looking for new homes, please visit our Featured Felines page, see us at one of our Adoption Days, or contact us.
Kitty Angels, Inc. P.O. Box 638 Tyngsboro, MA 01879
978-649-4681 - www.kittyangels.org
© 2021 Kitty Angels