We have temporarily suspended our Adoption Days at PETsMART in Nashua. If you are interested in adopting, please call or email us for an appointment.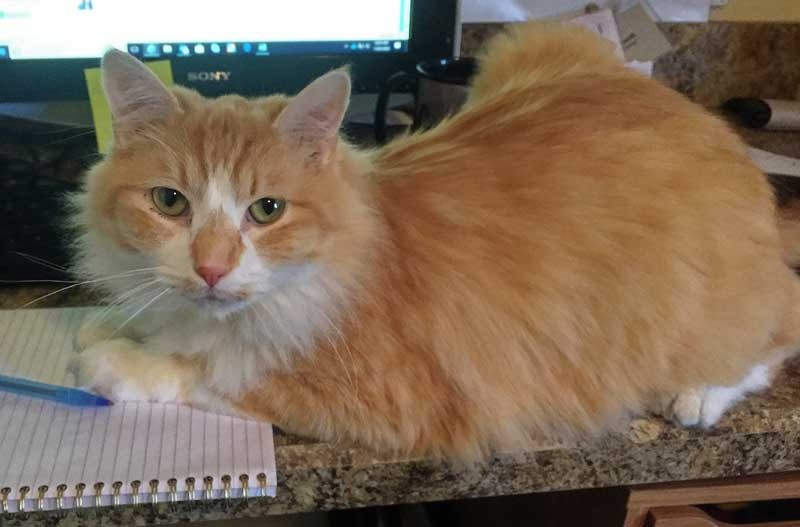 "Trace"
Breed

Domestic Longhair

Color

Orange and White

Gender

Male

Age

About 3 years (Adult)
Trace is a sweet cat. He loves to play and will be going to his new home with his favorite toys and perch.Trace had a rough start to his life, found in very poor condition outside, his rescuers saved his life for sure when he was no longer able to walk. He is great at using his litter box, eats twice a day and is a quiet house mate.
Trace is looking to be the only cat in an adult home. He can get overly excited when playing or being petted and try to grab your hand/arm and bite. Without claws and with some missing teeth this doesn't hurt. It is easy to recognize when he's about to act this way so you can stop petting him. You can pick him up to move him around or off something. He will start to turn like he's going to bite but hasn't.
He is very inquisitive, he loves looking out windows and will paw at and search for birds if you let him watch Youtube Cat-tv. HE LOVES TO PLAY!! Trace loves to be petted when he's walking around you. He'll follow you around especially around dinner time.
He's a quiet office mate during the day in his foster home. He sits quietly and naps in an extra office chair. He's not a lap cat. He's only ever sat in my lap to look out the window. He doesn't sit next to us on the couch. He likes a little bit of space.
If you would like to know more about Trace, or any of the other cats we have available, please contact us.
Can't adopt Trace but would still like to help? Please consider dedicating a donation to Kitty Angels in his honor.
Kitty Angels, Inc. P.O. Box 638 Tyngsboro, MA 01879
978-649-4681 - www.kittyangels.org
© 2020 Kitty Angels