Alumni page 71
Dottie was adopted in April 2004 by Nancy and Maurice and their two boys when she was about six months old. They write, "She was taken in by Kitty Angels early in the year when she was found abandoned in an apartment building in Fitchburg. When we first went to see the cats at Kitty Angels, we set our eyes on hers and we fell in love with her. She was very small at the time and we found out that she had pneumonia but quickly recovered.
"She adjusted very well to our home. She loves sitting perched on the windowsill on sunny days looking at birds. In the winter she loves wrapping herself in a blanket on the couch and she enjoys watching hockey!
"She is now about two and a half years old and she really brightens our day with her ability to make us laugh."
---
Karen and Paul write, "We're sending this pic showing how comfy Marshall is at his new house. Marshall has adjusted extremely well to our home and the other cats (including other Kitty Angels alumni Bea, Lopez and Tippy, as well as Mim and Pip and Nacho!) What an amazing little cat...he's catching random moths and flies (quite a feat for a little blind cat) and plays so hard he passes out on his window perch. He's a much loved cat and such a wonderfully rewarding little guy...we're lucky he owns us."
---
Jamie and Victor write, " We adopted Charlotte (top) and Sebastian (bottom) over a year ago. They are the furriest cats in the whole world. We love them very much! Thank you for rescuing them for us!"
---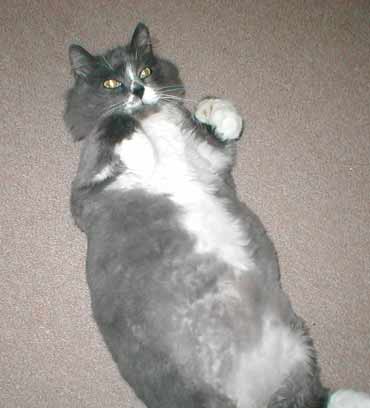 Kara adopted Marianne and Ginger October 16, 2003. She writes, "I fell in love with them the first time that I saw them at PetSmart. Sadly, Ginger passed away, but Marianne (top) has thrived. She is the most lovable cat I have ever had. She is my companion wherever I go and she loves to cuddle and groom me all the time. She also loves to cuddle with me at night under the covers.
"We got her a companion (Duncan, bottom) in May of 2005. They both get along great and are very happy together. We will be adopting from Kitty Angels again to add to our happy little family of felines. Thank you Kitty Angels for my little angel and our little angel to come!!!"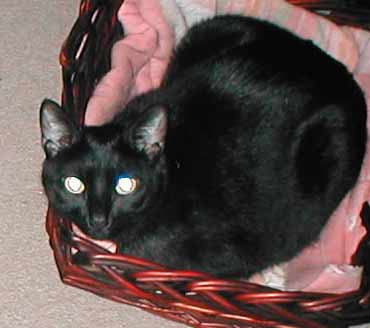 Kitty Angels, Inc. P.O. Box 638 Tyngsboro, MA 01879
978-649-4681 - www.kittyangels.org
© 2023 Kitty Angels