Alumni page 72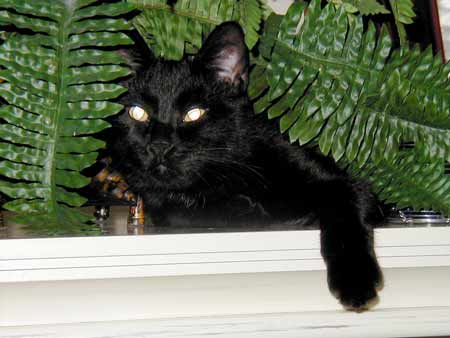 Pamela writes, "Harley (top photo) has adopted my daughter. Harley and Zsa Zsa (middle photo)follow her everywhere! I still can't get a good picture of Zsa without glare on her fur or making a silly face! The third picture shows Frasier and Chilly snuggling in a sunny spot on the couch."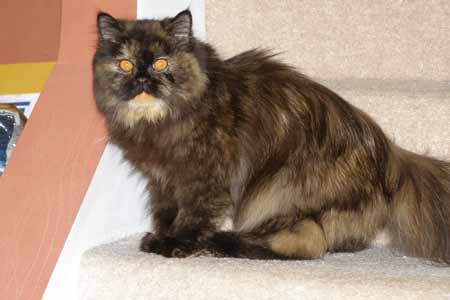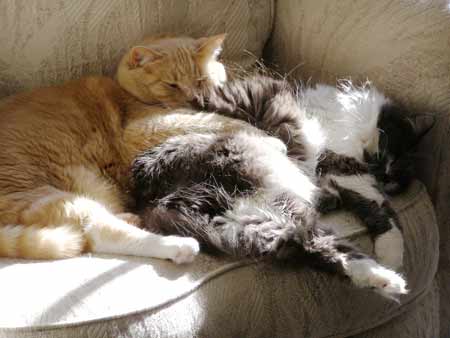 ---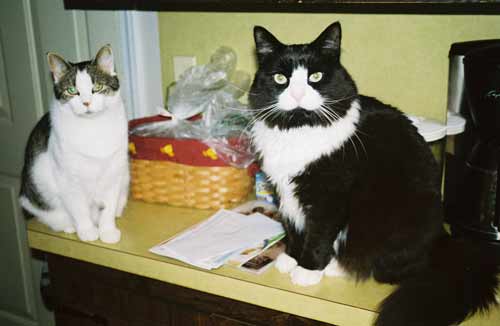 Kara and Ken write, "We adopted Murphy (right in photo) from Kitty Angels in December 2005. You have no idea how much we love him! He's brought more happiness to our lives than we ever could have imagined. Still, after almost a year, everyday we talk about it and how he keeps getting cuter, funnier and cuddlier. We were so sad before we met him because we had just lost our beloved cat Monkey after a year long illness. We didn't think anyone could fill that hole in our hearts. We were wrong.
"Murphy is such an original, a real one of a kind and we love him so much. He's a cat but thinks he's a dog. He follows you around the house like a puppy dog, looking up at you with that adorable face while trotting beside. Everyday Ken comes home from work, puts his hand out to pet Murphy's head and he stands up like a little circus bear. He plays like such a crazy man if you're in the next room it sounds like we have an 80 pound dog.
"I think he's pretty happy at his new forever home. After a bit of a rough start, Murphy and his new sister Mona love each other now. He wanted to be her best friend immediately but I think she was a little scared of his bigness (17 pounds) and was missing her brother Monkey. He was very patience and, although it took almost two months, Murphy made her love him. Now they give each other a bath at least once a day which usually leads to some play wrestling. They lie right next to each other on the floor, sleep with us next to each other every night, share playtime… they both seem really happy.
"I figure he likes his new parents because whenever we're home he wants to be where we are. Whatever room we're in, he moves to. When he wants some attention he gives us this adorable but pathetic little squeaky doll mew for which he promptly gets tons of head and belly rubs or picked up and held like a baby. My guess, it's all an upgrade from living on the streets so he's probably pretty content. I'm trying but I really can't put in words how much we love him!
"Thank you so much for rescuing him and trusting us enough to take care of him. Thanks for being such nice people and for taking such good care of the homeless animals of the world!"
---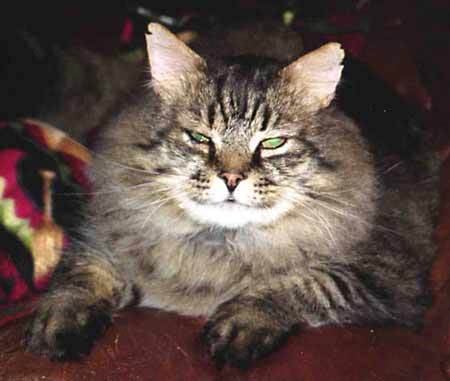 Dave and Jean write, "We adopted Bob (named Dean when we got him) in May of 2006. His age at the time was estimated to be around two years and he had been abandoned by his previous owners and left to fend for himself. When rescued by Kitty Angels he had extensive injuries that required him to be quarantined for six months. Today, the scars on his face and his ears are still visible. The day we adopted Bob was his first day in the store following his quarantine period. When we saw him we knew he was the one we had been looking for for years, and we took him immediately.
"Bob has all the characteristics, including size (17 lbs) and huge tufted paws, of a Maine Coon but of course we will never know for sure. He doesn't like to be picked up, but loves to hang around and lie by your side or in your lap, when he wants to, and he will follow you around the house like a dog. He has a great dislike of dogs which he has made crystal clear to our Corgi and our Cocker, and both dogs are a bit intimitated by him, probably because they have never before encountered such an enormous cat. He gets along well with our other cats though, and is otherwise a very gentle giant."
Kitty Angels, Inc. P.O. Box 638 Tyngsboro, MA 01879
978-649-4681 - www.kittyangels.org
© 2023 Kitty Angels